In 2022, global non-ferrous metals markets faced notable headwinds, including the war in Ukraine, the continued disruption of supply chains and the sharp increase of energy prices, all of which had a material impact on the progression of the Green Economy transition globally. Despite this, Concord remained dedicated to deliver on its commitments in the sustainability space.   The energy transition minerals and metals that Concord trades will play an important role as a part of the solution to tackling climate change.
Environmental
Concord calculated its operational carbon footprint during calendar year 2022.  The methodology chosen to measure carbon emissions at Concord follows the internationally recognised standard ISO 14064.  The operational carbon footprint covers Concord's 'operational emissions', including Scope 1 (Direct emissions), Scope 2 (Indirect Emissions) and Scope 3 (Other Indirect Emissions) but excludes Concord's Scope 3 Supply Chain emissions which have been calculated separately. 
Operational Carbon footprint
Concord's operational carbon footprint for calendar year 2022 amounted to 303.9 tCO2e, with 37% of it arising from air travel which significantly increased in 2022, 20% from energy in buildings (electricity & gas) and purchasing 32%.  Relative emissions (compared to turnover) are up by 33% as turnover in Concord Resources Limited reduced.
Scope 1 (Direct emissions)
7.5 tCO2e (2022)
13.6 tCO2e (2021)
Scope 2 (Indirect Emissions)
50.2 tCO2e (2022)
48.3 tCO2e (2021)
Scope 3 (Other Indirect Emissions)
246.2 tCO2e (2022)
90.6 tCO2e (2021)
Total Emissions, tCO2e
303.9 tCO2e (2022)
152.5 tCO2e (2021)

Carbon Chain – Scope 3 Supply Chain Emissions                   
The partnership between Carbon Chain and Concord continues to evolve and allows Concord to accurately measure and disclose Scope 3 Supply chain emissions data to customers when required. Extraction and refining represented the majority of emissions generated through Concord's supply chain, accounting for 96.6% of 2022 emissions. Transporting traded goods contributed 3.4%. This means that sourcing choices represent the most impactful opportunity to reduce emissions. The majority of Concord's supply chain emissions came from the production of primary aluminium, with an average intensity of 12.1 tonnes CO2e/tonne aluminium traded. This relates both to Concord's focus on aluminium trading – it was the most frequently traded commodity in 2022 – and the high average emissions intensity of aluminium production, which is dominated by the smelting process. Aluminium also presents the greatest opportunity for abatement: the lowest carbon aluminium traded in 2022 had a footprint of 2.98 CO2e/tonne (Alma/Quebec) whilst the highest was 18.69 CO2e/tonne (Hillside/South Africa). Copper Cathode and Alumina trades also represented sources of supply chain emissions. 
To put this into context, in 2022, Concord's total supply chain emissions was 10.91million tCO2e (compared to 12.20 million tCO2e in 2021).  The 2022 data comprised 2.78million tonnes of metal, represented by 4,676 trades with an average carbon intensity of 3.92 tCO2e/tonne traded (versus 3.59tCO2e/tonne from 2021).  The carbon intensity number is slightly up from last year, reflecting the reality of an increased number of trades but less volume traded, as well as a larger proportion of aluminium in Concord's overall product mix.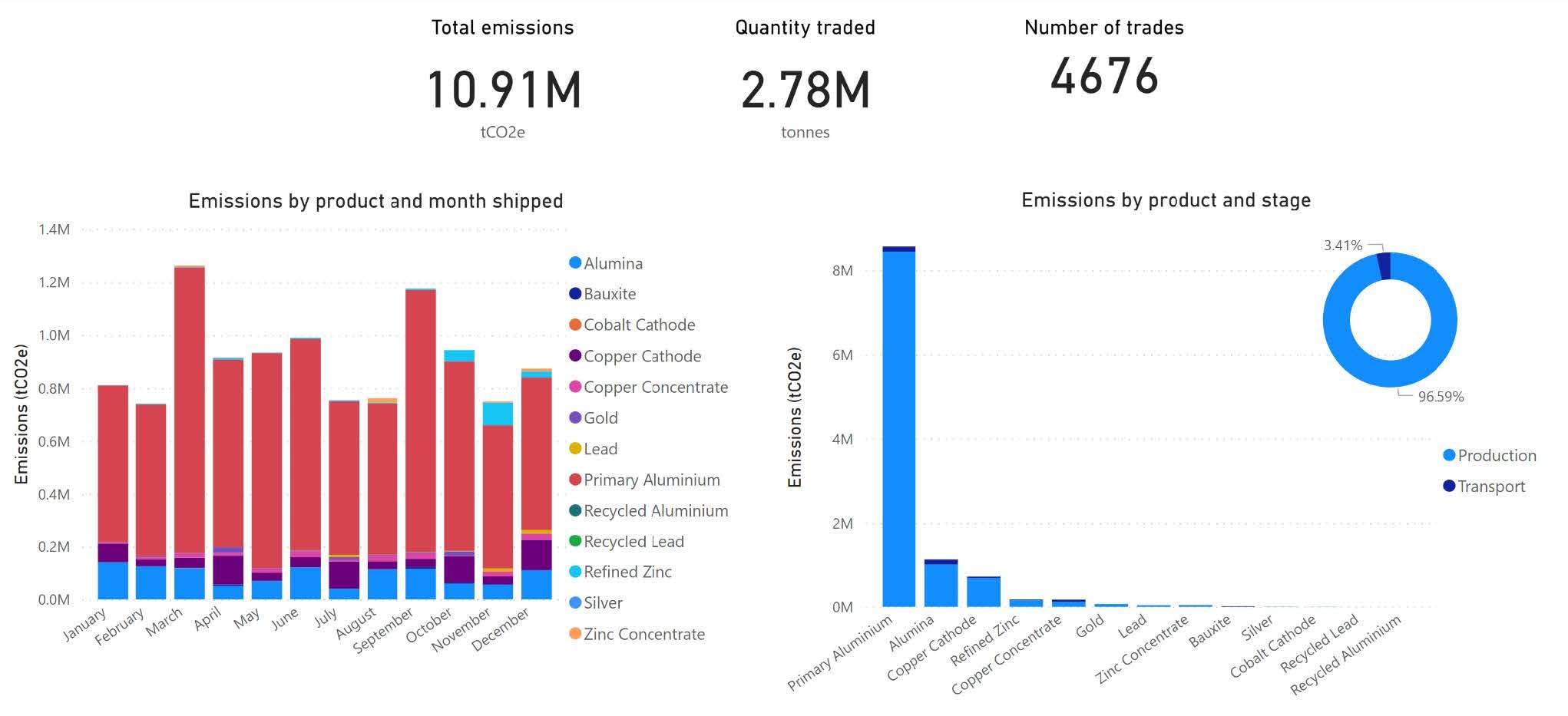 Clear Sky Limited
During 2022, Concord continued to support the work of its joint venture company, ClearSky. Concord maintains that investing in regulated and voluntary carbon of
fset markets will have an important role to play in the progression towards a carbon neutral world, especially for industries with emissions that cannot be eliminated or reduced through investment and operational optimisation. Over the course of the year, ClearSky developed its business strategy, concluding its first carbon offset sale to an international automobile manufacturer whilst strategically building out the commercial team to maintain steady growth and development as a new player in the Carbon offset markets. Concord supports the view that carbon trading has the potential to enhance Concord's strategic position in the sector.
Sustainable Financing
In 2022, Concord executed an amendment agreement with one of our trade finance banks to use the Carbon Chain data to identify certain ESG targets for Concord's business (Key Performance Indicators or "KPIs"). At this stage, the arrangement operates as a 12-month pilot to enable Concord to understand the logistics of how such ESG targets would work. As a result, there is no discount or premium in terms of cost of funding for meeting these KPIs. Indeed, there is no obligation on Concord to enter into any final KPI programme but knowing that many of our financing banks are leaning towards these types of criteria, it is a good opportunity to test the process before Concord has to commit to anything and these KPIs could, in the future, form the basis for a Sustainability-linked loan. The KPIs included in the pilot programme are:
Within the whole Concord trading portfolio, decrease carbon intensive trades by 9% and increase green trades by 23% over the next twelve months. 
Within the bank-financed portion of the Concord trading portfolio, decrease carbon intensive trades by 9% and increase green trades by 23% over the next twelve months. 
Within the whole Concord trading portfolio, reduce the average carbon intensity of aluminium traded by Concord over the next twelve months by at least 10%.
Concord to improve its Ecovadis score by at least five points during its next assessment in 2023.
Atalco and Discovery Bauxite
ATALCO's average scope 1 and 2 carbon emissions for chemical grade alumina products is 0.719 tCO2e/t and the average for scope 3 emissions is 0.284 tCO2e/t. ATALCO's scope 1 and 2 carbon emissions for smelter grade alumina is 0.941tCO2e/t and for scope 3 emissions is 1.225tCO2e/t.
In Jamaica, a third-party carbon company was instructed to conduct a due diligence site visit to assess the viability of carbon offset projects on the Discovery Bauxite land. Additionally, a solar power development company has been to the Jamaican site to carry out a formal assessment. A huge effort has been undertaken to communicate and connect with the local communities surrounding the area, including broadcasting medium and social media streams supporting projects such as Jamaica's National Tree Planting Programme.
Social
HR Discovery
In June 2022, Concord engaged an HR consultant to undertake a Discovery Audit of Concord's workforce to learn about Concord, its ethos and its culture by meeting a wide number of Concord employees, representing a randomly selected cross-section of the team. After the changes in working environments brought about by the Covid years, more flexible working policies and the business evolution of Concord during these critical years, the management team felt it was important to turn its attention to how Concord's people and teams are developed and led. An assessment of Concord's internal culture and review processes was carried out to evaluate and develop a common vision from and to which Concord wants all employees to evolve. The Discovery Report was prepared in September 2022 and the management team has spent time identifying areas where the HR offering could improve.   Since then, Concord has (a) issued an Agile Working Policy that allows every employee to work from home one day per week with the opportunity for all employees to request and negotiate an alternative work arrangement; (b) finalised a company organisational chart which is updated and circulated to all employees every quarter; and (c) initiated an annual review process for every employee together with clear communication to managers of their responsibilities and duties.  There is more work to be done, but we have made a good start.   
External Engagement
Responsible metals sourcing is fundamental to Concord's business strategy and this commitment is evidenced with its OECD Supply Chain Policy and its involvement with the UN Global Compact. In addition to the principles encompassed in the OECD Supply Chain Policy and the UN Global Compact, other guidelines which are upheld by Concord in this area include relevant Conflict Minerals regulations and Modern Slavery laws.
Governance
Concord was very pleased to be awarded the Silver Ecovadis Corporate Social Responsibility ("CSR") rating in 2022. Maintaining the Silver Rating, while improving its overall score from the prior year, was one of Concord's commitments and one which it was able to proudly achieve, notably improving in many key areas of the scoring system.
In terms of Board governance, we now leverage the CarbonChain data to include a quarterly Scope 3 supply chain emissions report in the set of documents which is provided to the Board in advance of every Board meeting. 
There are many regulatory developments on the horizon, and these initiatives will drive different aspects of ESG change.  For example:
EU's Cross-Border Adjustment Mechanism ("CBAM") will require Concord to understand and disclose the carbon footprint of all in-scope material it is importing into the EU.  Ultimately, Concord will be required to purchase CBAM Certificates to offset this carbon footprint.  The transitional period for CBAM goes live from 1 October 2023 and Concord is actively preparing its front and back-office teams to ensure we have the right processes and procedures in place to be able to meet these requirements.  
In addition, the EU's Sustainability Due Diligence Directive will set out an EU legal framework on sustainable corporate governance, including corporate due diligence along global value chains.  A duty will be imposed on large EU companies and non-EU companies with significant EU activity to address human rights and environmental violations in their own operations, those of their subsidiaries and in their global value chains.
Forward-looking Goals for Concord's ESG commitments in 2023/24
Concord has reviewed the different areas of its business where it seeks to expand and improve in its ESG initiatives during 2023.   We approach the next 12 months with a fixed commitment to engage with stakeholders and to continue to raise our ESG ambitions:
EcoVadis re-assessment:
Seeking to improve the score by at least 5 marks. 
Carbon Chain:
Train all employees to be able to use and access the Carbon Chain platform, thus enabling the production of a carbon footprint report for every trade. 
UN Sustainable Development Goals:
Identify 2-3 UN Sustainable Development Goals against which Concord can align its business.
Customer and Supplier Due Diligence:
With future regulatory initiatives on the horizon, initiate a review of Concord's Customers and Suppliers and introduce enhanced due diligence and policy assessment which is appropriate to meet legal requirements.